Hearing aids are devices that amplify sound for people with hearing loss. They come in various types, styles, and technologies, which can affect their prices. Typically, hearing aids can range from a few hundred dollars to several thousand dollars per unit.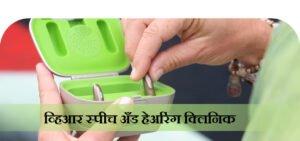 In India, the cost of hearing aids can vary depending on the brand, model, features, and the clinic's location. In Aurangabad, there are several clinics that offer hearing aid services, including Vr Speech and Hearing Clinic.
Vr Speech and Hearing Clinic is a well-known clinic that provides hearing assessments, fitting of hearing aids, and rehabilitation services. They offer a wide range of hearing aids from various brands and styles to cater to their patient's specific needs and preferences. The cost of hearing aids at Vr Speech and Hearing Clinic will depend on several factors such as the type of hearing aid, the technology, and the patient's requirements.
It is always advisable to consult an audiologist or a hearing care professional before purchasing a hearing aid. The audiologist will assess your hearing loss, recommend the appropriate hearing aid, and guide you on the available financing options.
In addition to the cost of the hearing aid, patients should also consider the maintenance cost, warranty, and repair services offered by the clinic. It is essential to choose a reliable clinic that provides quality products and after-sales services to ensure the hearing aid's longevity and effectiveness.
the cost of hearing aids in Aurangabad can vary depending on several factors, including the clinic, brand, type, and technology of the hearing aid. Patients should consult an audiologist or hearing care professional for a comprehensive assessment and guidance on the most suitable hearing aid for their needs. Vr Speech and Hearing Clinic is one of the hearing care providers in Aurangabad that offer hearing aid services, but it's recommended to check with them for current pricing information.