Snoring is a common condition that affects many people, and it can be caused by a variety of factors, including obesity, alcohol consumption, smoking, allergies, and sleep apnea. Sleep apnea is a serious sleep disorder that causes breathing to stop and start repeatedly during sleep, and it can lead to a variety of health problems if left untreated.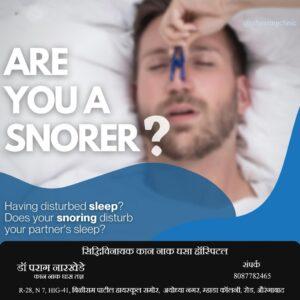 If you or someone you know is suffering from snoring or sleep apnea, it's important to seek the help of a qualified healthcare professional. An ENT expert, like Dr. Parag Narkhede in Sambhaji Nagar Aurangabad, can provide a thorough evaluation and diagnosis of the condition, as well as recommend appropriate treatment options.
Some common remedies for snoring include weight loss, avoiding alcohol and sedatives before bed, sleeping on your side, and using nasal strips or other devices to keep the airway open during sleep. In some cases, surgery may be necessary to address underlying structural issues that contribute to snoring.
Overall, snoring is a common and treatable condition, and seeking the help of a qualified healthcare professional can help improve the quality of sleep and overall health.