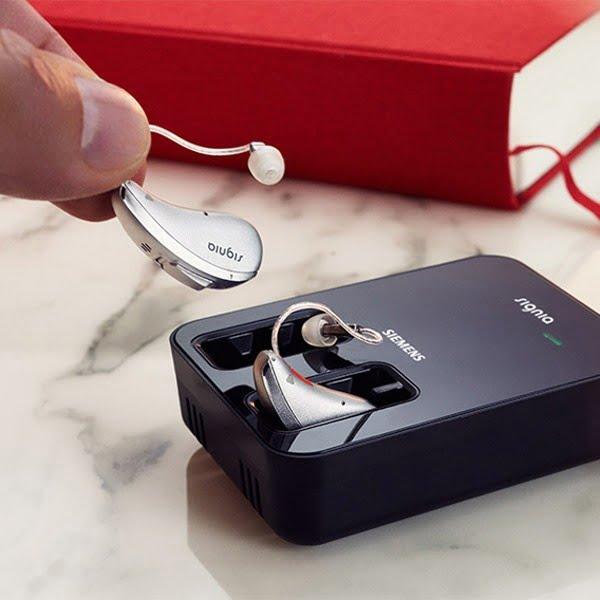 VR HEARING AID 9657 588 677

About
Signia's Cellion Primax is the first ever hearing aid with lithium-ion inductive-charging. This means charging is quick and easy. Just lay your hearing aids in the charger and you'll get 24-hours of use with one 4-hour charge, plus unlimited streaming. In a rush? A 30-minute 'fast charge' will give you 7-hours of use.
With an IP68 rating thanks to the OneShell design, Cellion is moisture, sweat, dirt, and dust resistant.
Streaming from your devices is easy with the easyTek accessory and easyTek app, which also acts like a remote control for adjustments. Take a look at the accessories below for more information.
Yet another great feature of the Cellion is that during the charging cycle, the charger dehumidifies the hearing aids for better care and longer life.
With its reliable, high-capacity lithium-ion power cell, Cellion not only provides 24 hours of use on a single charge, it has 60% more power than a standard rechargeable battery. Just put your Cellion hearing aids in the charger at night and, when you take them out in the morning, they turn on automatically, ready to use all day!
In areas where ambient noise can cause problems for hearing aid users, such as the store, a party, or bustling restaurant, it can take a lot of concentration and effort when trying to hold a conversation. Cellion, with its advanced SpeechMaster function, focuses automatically on your conversations, while filtering out surronding noises.
You hear more clearly what you want to hear, all day, in any situation.
Feature
The Signia Cellion Primax comes in two models. The 7px and 5px with a range of domes or custom molds to suit your needs.
The following are some of Cellion's top features:
Inductive-Charging – No contacts, automatic charging once placed in the unit
Rechargeable Li-Ion Cells – Last up to 5 years, 24-hr use per charge
Remote Control – Can be controlled by touchControl app or miniPocket
Directional Mics – Understand the speaker in front of you in noise
IP68-rating – Moisture, sweat, dust, and dirt resistant so it lasts longer
miniReceiver 2.0 – Available in 4 lengths and power levels: S,M,P, and HP
MyHearing App – Allows you to record and give feedback to your provider
Push Button Adjustment – Allows you to manually adjust programs
Replaceable Outer Shell – Allows you to change colors at your clinic
Wireless – Cellion e2e wireless 3.0 – streaming and remote control
TwinPhone – Signal is transmitted from one hearing aid to the other
OneShell – Provides comfort and style, while enhancing reliability